18 July 2010
1 Comments
The fast-approaching release of FFXIV has ushered in many different topics of discussion, from debates and concerns about the game's success to praise for its attempt at innovation. Though nearly every topic has been talked through time and time again, one in particular has always seemed to pass by, unmentioned. I'm not saying this topic isn't a concern of fans, and on the contrary, it's probably one of much value. The issue is, we know very little about it, and likely won't start to learn of it until players begin uncovering details of FFXIV's story.
What I'm alluding to, of course, is the idea of time travel in FFXIV. This has been mentioned many times in interviews, translations, etc., but still remains shrouded in much mystery. How will it work, and what purpose does it serve us, as players? Time travel is by no means a new or novel idea. Rather, it's been used to create interesting and sometimes un-interesting scenarios in games, movies, and simple stories for ages. Most recently, the game
Singularity
was released, which features a sort of take on altering the course of time. Even in the final fantasy series, time travel has been popularized, with an entire expansion line being dedicated to it in FFXI.
Quote
The key points of the Final Fantasy XIV storyline are that you will be experiencing what happened in the past. By doing that you will discover the secrets of the world. If it's a package title, sometimes by following the story you can't do anything else, you just have to keep following the story. But because it's an MMO, you can stop the story at certain points when you like and try out a different quest. So you have much more freedom and also by trying the quests that might help you experience the storyline, the character will feel a part of the main story. We managed to do that as we have a lot of experience from Final Fantasy XI so we have the know-how to do that.
It seems, then, that players won't necessarily be traveling through time, persay, but able in some way to "experience" the past. This may mean time travel, but it may also be done through a number of other different options. For example, there could be specific locations throughout the world, where perhaps a source of aether has created a rift in time, allowing players to enter the past, or even the future, similar to the iconic Temple of Time in Zelda: Ocarina of Time.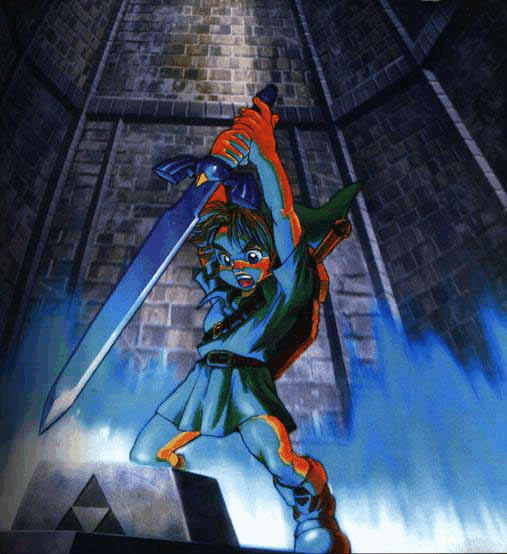 There may also be situations where our characters will simply enter a sort of daydream or trance-like state. This is used many times in film and television, as characters suddenly enter into "flashback" moments. Perhaps during a cutscene or NPC conversation, we will be allowed the power to play a part in the past.
One of the most interesting details, though, will be whether players are able to effect the present through their actions in the past. There are a number of situations where this could prove useful, but also annoying to some folks, as more of a convenient story-telling mechanism. "Oh, so this group of beastmen is about to completely obliterate Ul'dah from the map? Let's go back in time and destroy them while they're wearing diapers!"
Another question remains as to whether this experience will occur through brief, transient dream-like states, possibly even accessed through a character's dreams, or if they will occur as a major chunk. Again, not to be a total Zelda fanboy, but much of the game occurred in this way.
Whatever the case may be, I'm most certainly excited to see how it will effect the storyline. In Final Fantasy XI, such a large part of the story actually occurs before the player is even brought into the game, and a lot of the mystery about the world comes from having to uncover the details of these past events. And let's not forget the possibility of prophecy, and seeing into the future. There are so many interesting story-telling mechanisms at Square Enix's disposal, that one cannot help but be overwhelmed at the many different possibilities awaiting us within the upcoming months.
1 Comments On This Entry
Trackbacks for this entry [ Trackback URL ]
0 user(s) viewing
0 Guests
0 member(s)
0 anonymous member(s)